This Holiday and Christmas centerpiece is as simple as a sparse Garland and 5 or more bunches of wheat (depending on your Garland and table length) tied off with raphia.
My favorite fall tablecloth was nowhere to be found so I opted for a runner. Hopefully I didn't leave it at the dry cleaners.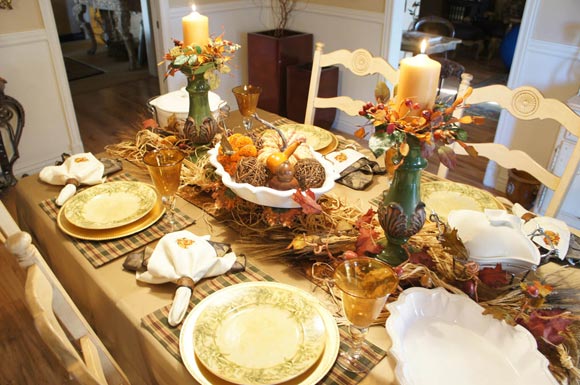 *** Click here to see a 13 photograph slideshow of this Christmas centerpiece ***
I haven't included any step-by-step instructions in this article. However, the above slideshow will give you a good idea of how to assemble this holiday centerpiece.
In the bottom photo you'll notice a change: the centerpiece was converted to do more than simply look good!
If you have a buffet for serving — perfect! Some items are nice to keep close to your plate, such as  dinner rolls in the center of the table. Dressing, potatoes, and gravy seem to be a Thanksgiving staple … or a salad if you prefer.