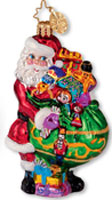 One of my fondest memories with a client, in recalling the emotions that Christmas ornaments create, was while working with Mrs. Fulton.  I cannot begin to tell you how many unique Christopher Radko Christmas ornaments she had –  hundreds, possibly over a thousand.  I can tell you that the experience of unwrapping each ornament was a memory all of its own.  I was sure she could recall when she purchased, or received as a gift, a good portion of them.
A teacher by profession long before the 15 years I was privileged to work with her, she gave me many opportunities to hear the stories that were dear to her.  Mrs. Fulton was a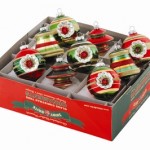 lover of everything beautiful. Art was her passion and she could have easily been an art history professor with her knowledge. I can still see the look on her face with every special ornament and the memory it evoked.  This is why taking the time to share with you a brief intro to the beginnings of the unique Christopher Radko Christmas ornament collection is important to me.
One of the fastest growing collectibles in the United States, Christopher Radko handmade Christmas ornaments are created from European glass. They are painstakingly crafted from an old world method that includes glassblowing, sterling applications,  and detail-oriented hand painting. The  result is original, luminous, and brilliantly colored ornaments of heirloom quality. It takes seven days to complete  these unique,  handmade glass Christmas ornaments.
Although Santa ornaments are among the most popular, the whole collection is vast from nutcrackers to nativity's, special places to honored memories, the changing seasons and  many other celebrated holidays.
Each year, Christopher Radko ornaments are created and selected for fundraising purposes. This year's Charity Awareness designs will benefit AIDS, Alzheimer's, Animal Rights, Autism Spectrum Disorders, Breast Cancer, Diabetes, Heart Disease and Pediatric Cancer.
Read more:
christopherradko.com
Collectible Radko Ornaments Information | eHow.com http://www.ehow.com/about_5456729_collectible-radko-ornaments-information.html#ixzz0ydBsxKaY