History
Christopher Radko, designer of keepsake Christmas ornaments, gifts and home decor, began creating ornaments as a result of personal calamity. In 1984, his family's Christmas tree fell, destroying a treasured collection of over 2000 mouth-blown European and unique, glass Christmas ornaments. Replacing them proved difficult, but while visiting cousins in Poland, Radko met a craftsman eager to revive his great-grandfather's art of making glass blown ornaments. A partnership formed, and today, Christopher Radko employs over 3000 glassblowers, carvers, mold makers and hand painters, applying Renaissance-era techniques in cottage workshops located in Poland, Italy, Germany and the Czech Republic.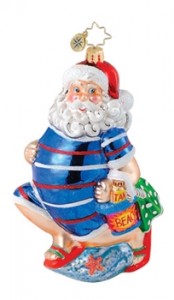 The Process
After Radko conceives a design, it is sent to a carver who works from clay or plaster. It then goes to a mold maker who uses the centuries-old process of making a sand-cast mold from molten metal. A glassblower then creates the ornament using clear tempered glass, noted for its strength. Next, liquid sterling is injected into the ornament to give it luminance. This is followed by the application of lacquer in vivid colors. Artisans then add fine details and variations in personalized touches, making the unique, glass Christmas ornaments truly one-of-a-kind. For extra sparkle, glitter is dusted on the ornament before the golden Radko charm and crown are added as the finishing touch.
Styles
While many designs are available, Santa ornaments are among the best sellers. Some ornaments depict Santa in the timeless, traditional roles of sliding down the chimney, flying in his sleigh and towing a sack of gifts, while others show a whimsical St. Nick in a submarine, atop the Empire State building, visiting the planet Neptune and dancing the polka with Mrs. Claus. Like all Christopher Radko ornaments, these boast vivid colors and glitter for brilliant radiance.
Christopher Radko's unique, glass Christmas ornaments also feature nutcrackers, religious and nativity scenes, lighthouses, churches, candy shops and animals including kangaroos, reindeer and bears from the Muffy Vanderbear Collection. Their Places and Mementos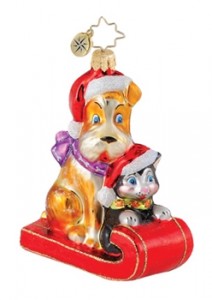 line pays tribute to various cities including Chicago, Manhattan and Las Vegas. Sparkling flip flops, flamingos and a Grand "Kahuna" Claus are part of the Sun and Surf line, while European charm is crafted into their Italian Flair and German ornaments. They also make ornaments honoring the bride and groom and celebrates baby with ornaments of rocking horses and tiny shoes. Other seasons and holidays recognized with ornaments are Easter, Hanukkah, Kwanzaa, autumn and Halloween.
Charity Awareness Designs
Each year, Christopher Radko ornaments are created and selected for fundraising purposes. This year's Charity Awareness designs will benefit AIDS, Alzheimer's, Animal Rights, Autism Spectrum Disorders, Breast Cancer, Diabetes, Heart Disease and Pediatric Cancer.
Read more:
christopherradko.com
Collectible Radko Ornaments Information | eHow.com http://www.ehow.com/about_5456729_collectible-radko-ornaments-information.html#ixzz0ydBsxKaY