What imbues some Christmas tree ornaments with a feeling of nostalgia?
"When people look back over their lives, they often find that the memories and emotions of Christmas rise above all the other emotions in both vividness and intensity.  Child-like emotions of excitement and anticipation infect even adults during this time of year." Bob Brooke
Whether of childhood, relationships or the spirit of the holiday, some special Christmas tree ornaments have the power to evoke deep emotion.  Perhaps it is because only a few survive from childhood and that alone makes them treasured.  More likely is that something magical happened around those holiday decorations.  If so, then it is possible to transform a new piece into an heirloom by selecting ornaments that have a special meaning for you.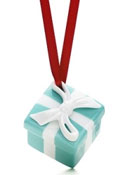 Consider looking for holiday decorations with a purpose.  Perhaps you prefer to select an ornament each year to symbolize your experiences over the year and what makes that holiday special.  Even an ordinary Christmas tree ornament can be made unique with a personal touch like a handmade beaded covering.
Or for a truly memorable moment, imagine an engagement ring tied to a signature Tiffany Blue Box Christmas ornament in bone china.
There are people who take the care of selecting ornaments one step further toward the spirit of Christmas like Sara Stanley with Ornaments to Remember.  When she started a business featuring Christmas tree ornaments and ornaments for any occasion, she decided to use the profits to create a website called the Learning Community, a nonprofit dedicated to helping parents.  Each of the unique Christmas  ornaments in her collection not only symbolizes your holiday memories, but in the spirit of giving, helps others.
The care and intention placed on a collection of unique Christmas ornaments brought together over years or all at once can leave an impression on the ornaments that reflect the anticipation, surprise, joy and spirit of Christmas in years to come.