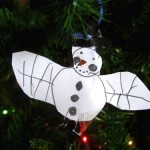 Handmade Christmas ornaments made by kids are the best! I am a professional holiday decorator and creating beauty is my passion. Having said that, you must know that creating memories is even more important to me than professional Christmas tree decorations– even if they do not conform to interior decorating standards.  The site mentioned in this post was so nostalgic it made my heart smile from the inside out.  I will tell you why after you hear about these sweet kids and what they did for their mum.
Lucy (mum) had been down, I believe preparing for her new addition to the family. One morning she found her little ones had adorned the tree with some very sweet handmade Christmas ornaments, as shown. You must go to  http://attic24.typepad.com/weblog/decorations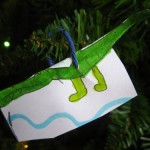 What is a mother to do?.. Enjoy every moment of it and praise, praise, praise. Lucy calls the two kids her "little people" and one in particular is quite innovative and gifted. It brings back such sweet memories of my kids handmade Christmas ornaments — the school projects were the best!
One day I was needing to drop by a clients home to add a last minute touch that had to be purchased for the entrance of their lovely home. My "little people" were a bit older and very excited to possibly meet the owner, who was a famous ball player,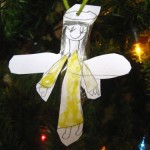 and his family. They were all that and more as the mission was accomplished. Driving home all I heard was "how come our tree  isn't decorated like that for the holidays?" Don't get me wrong … I did create a lovely holiday, but wasn't prepared to let go of the sweet memories and handmade Christmas ornaments that adorned our tree. So I had been found out!
You know that "ahhh" feeling when you see something special? That was how I felt with Lucy's site. Please browse through, she is lovely, and Lucy…thank you for the sweet memories and sharing your little people's love and talent:)