Decorated Christmas Trees with Ornaments that Give Love
Author Bernadette Dimtrov has said that connecting into the community through the act of giving has huge benefits. It reinforces love in all our lives. It creates leverage – which creates miracles  – when together we give for the greater good.
Have you ever had a "helpers high?" You know that feeling when you pitch in for a cause that is bigger than you, and the collective effort is nothing short of a miracle. That to me is altruism, whether collectively or individually, and the end result can be life changing.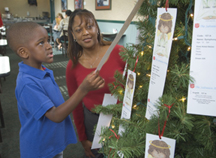 Most local malls have decorated Christmas trees with paper Christmas ornaments shaped as Angels. If you have never seen a Christmas Angel made for someone, possibly this is the year. To hang an angel in the tree, some organizations request a donation of clothes or a special toys or games that will go to a child or family in need. Regardless of the gift, just knowing you are helping someone can make all the difference.
From the Salvation Army website:
"The Salvation Army's Angel Tree program provides new clothing or toys for children of needy families. A sponsoring company or corporation places a Christmas tree in a secure, high-pedestrian traffic area or lobby. The tree is decorated with numbered paper angel tags with the first name, age and gender of a child who will receive the gift. Contributors remove one or more tags from the tree and purchase appropriate gifts for the child or children described on the tags."
I don't recall if they had paper Christmas ornaments with names of children who needed a gift when I was a young girl. But I do remember when my father died I was 10 years of age and my baby brother was only 3 weeks old. Mom was amazing, though we knew there wouldn't be enough money to go around and Christmas was going to be slim.
I will always remember the anonymous gift our family received that year. It was a big box filled with food, presents, and a baby blanket. Even at my young age I remember feeling gratitude and love for the anonymous donors.
Destressor Holiday Gifts: Part 6