Your choice of  Christmas wreaths is all about style — yours!  Are you elegant and traditional or modern and funky?  The holiday decorating style that you already enjoy in your home is a great place to look for inspiration for  Christmas wreaths.  After all, a wreath on your front door offers your unique brand of  "Welcome" to visitors and one indoors speaks to you all season long.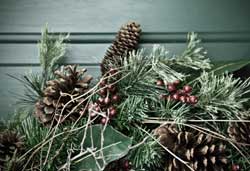 Narrow your choices in half by first considering if you prefer natural or artificial Christmas wreaths.  If you like the idea of a holiday tradition that lasts through the years or want to put some effort into making a gorgeous wreath (but only once)  then artificial Christmas wreaths are perfect for you.  If the properties of natural branches attract you because of the fresh smell or you enjoy the symbolism of evergreens representing eternity and repelling negativity — with a little Bayberry mixed in for good fortune and wealth — then focus on natural wreaths.
Either way, you can make or discover your wreath by looking for decorating clues that are right for you.  Follow your decorating color scheme, select accent colors from you decor to highlight your wreath, or try monochromatic adornments against the greenery.  Go big or small depending on the space you have and remember, a nice variety of evergreens will add depth and texture to any size wreath.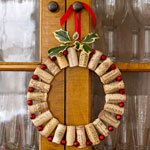 For a traditional Christmas wreath, look for classic elements like pine cones, berries, ribbon and ornaments.  Earthy styles can include apples, real or from the craft store, and an assortment of greenery from your yard.  A funky style might call for one of these fun choices found on Goodhousekeeping – a necktie wreath for the recently retired, a cork wreath for a wine lover, or a wreath of cookie cutters for a baker.
No matter if your style is refined or cutting edge, have some fun this holiday when you hang up your indoor and outdoor Christmas decorations by seeking out or making a wreath that reflects you. Have fun and make Christmas wreaths that give you joy!