Make bows for decorating a Christmas tree with ribbon, wreaths, and garlands.
I will be using 3 yards of ribbon to create this bow. You can use varying lengths of ribbon to create bows of different sizes. You can use bows for a variety of holiday decorating. I would encourage you to try decorating a Christmas tree with ribbon and see if you like the results.
Here are the steps. They are rather general so please review the video:
Make a loop from a long piece of wire and set it aside for a moment
Find the middle of the ribbon and make your first loop
Create 2 more loops, twisting the ribbon as you go to get the proper side of the ribbon to show forward
Use the long wire to secure the loops
Create more loops if you desire, but be sure to secure the 1st 3 loops with wire before you proceed
Please note that it is highly recommended to secure the 1st 3 loops before proceeding to any additional loops. That way the loops won't get away with from you and you will avoid the bow eventually falling apart.
Once the bow is created it will be your choice to cut the tails and make them even or to stagger their length.
Your choice of ribbon color and size will depend on your project. There are so many variations of ribbon that are readily available in stores everywhere. The bows you create are limited only by your imagination.
I created this bow in the beginning stages of this Christmas wreath I was creating. The finished wreath had many more decorations, but in this picture I wanted you to see the bow and placement.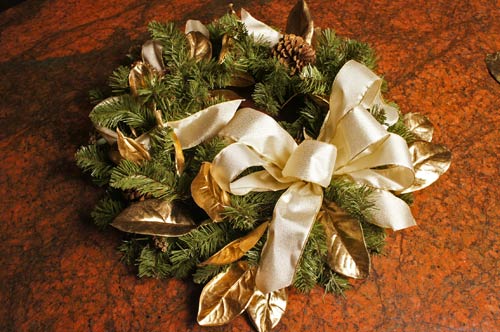 Below I was decorating a Christmas tree with ribbon and used a combination of 2 ribbons to create the desired effect.