What a wonderful surprise it would be for your partner that has a love language centered around "Physical Touch," if they had a coupon for a weekly massage from you!  Physical touch is another in the series on Love Languages discussed in the 2nd part of this holiday gifts series. My husband loves a scalp massage. I teasingly tell him he likes that more than other more intimate gestures… we can tease each other like that and it adds to the fun.  He has helped assemble and disassemble a decorated Christmas tree for the trade.  I try not to take advantage of him and it always seems to be a trade-off. Most of the time it leads to one of my favorites:  a foot rub!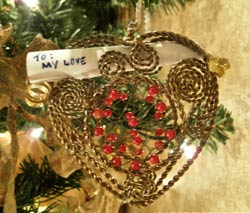 Creative Holiday Gifts
In part 3 of this holiday gift series I showed you a way to be creative with words of appreciation in your tree ornaments. The same idea can be used to give a gift centered around physical touch. You could roll a "coupon" for a massage into a tree ornament, as seen in the picture in that post.
Bernadette Dimtrov continues with number six as destressor because giving is all about looking outside ourselves with no expectations of anything in return.  It is putting others first for concentrated moments of time.  The ritual of giving takes the focus off of ourselves and the stresses in life are handled with a more balanced focus.
Acts of Service & Holiday Gifts: Part 5
Connecting with the Community / Ornaments of Love: Part 7