One of my goals is to provide you with a variety of  outdoor Holiday Decorating Ideas. This time of year I tend to focus on Thanksgiving and Christmas Decorating Ideas. Today we're visiting Tlaquepaque (pronounced Ta-la-ka-pa-key), an upscale arts and crafts village located in the heart of Sedona, Arizona. Tlaquepaque, meaning "the best of everything," has been a Sedona landmark since the 1970's.
My husband and I were pleasantly surprised to find the fountains adorned with pumpkins, gourds, flowers, and various types of wood and skeletal cactus. My personal favorite was the two-tiered fountain adorned with Manzanita wood and dried cactus, seen below.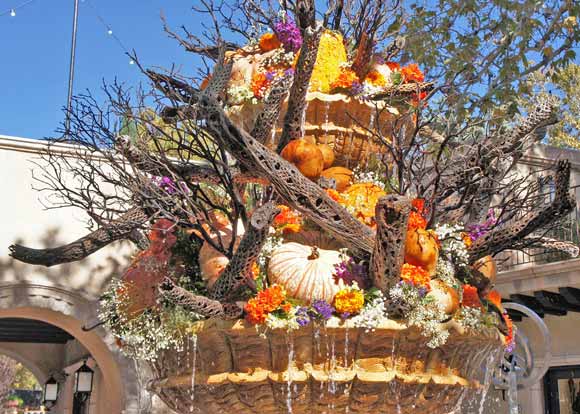 *** NOTE: CLICK ON THE PHOTO TO SEE A 12 PICTURE SLIDESHOW ***
In a different slide show picture you'll note the single tiered fountain had straight-stick branches ( possibly birch) in the center for height.
In the picture of a storefront you'll note a garland with gourds, berries, dried geraniums, and protea outlining the entry producing a rather fall-ish, rustic feel perfect for a Mexican courtyard!
The 4 tiered fountain had a Manzanita wood element.
All fountains were adorned with pumpkins, gourds, and a variety of flowers.
I'm curious to know how often they had to change out the fresh and more perishable items? After all, it was the beginning of November and in the mid-to high 70° that day.
We will be back in December and are excited to share their outdoor Christmas decorating ideas, including the "Festival of Lights" that starts November 15 and runs through the 1st week in January.